Services

- Audio, Visual and Decor Services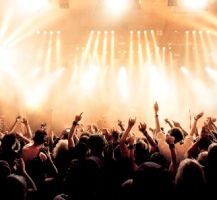 As we all come to realize at one inconvenient point or another, there is nothing more simultaneously wonderful and infuriating than technology. To make sure your seminars, speeches, and presentations go off without a hitch, leave the speakers, microphones and projectors to us. You'll be busy enough preparing your content and absorbing the information presented by others, you don't need to be worried about cables and switches on top of all that. We get plenty of practice running the audio-visuals in venues of all kinds for audiences of all sizes and we know the unique challenges that can accompany each scenario. We want to make sure the focus stays on what's important and leave no room for restlessness during "technical difficulties."
The audio and visual components are essential for the substance of an event, the speakers and training and presentations. But at Beyond Meetings and Events we're all about substance and style, and our décor services are second to none. The mood and ambience sets the entire tone for an event and will help guests feel comfortable/excited/ enthused—whatever you want them to feel! There is no detail too tiny or request too outlandish; if it's what your event needs, we'll make it happen.